Companies & CSE (Business and Social Council) 
All the information and useful contacts you will need to organise your visit to the Pont du Gard site 
An exceptional heritage site for your seminars, conferences and corporate events
The Pont du Gard site has numerous indoor and outdoor spaces, including two auditoriums, meeting rooms and spacious museum areas. These are ideal places to organise your events, conferences and even gala evenings. We have extensive corporate event experience and a team of professionals who will be happy to accompany you throughout your project. The Pont du Gard Site benefits from a wide experience in the organisation and creation of events, your project  will be safe in our hands. 
Not forgetting the 165 hectares of classified natural landscapes which could be a gigantic playground for organising teambuilding or incentive operations. 
The Pont du Gard is a place that embodies the genius of Man and knows how to inspire human values such as commitment, inventiveness, greatness and respect. 
For your events, take advantage of a unique setting, an exceptional climate and an ideal location in the heart of the Marseille, Avignon and Montpellier triangle, 3 hours from Paris by TGV. 
Unique and breath-taking spaces
Public Relations, Conventions, Workshops, Receptions... You can do all that and more at the Pont du Gard site. With more than 750m2 of meeting rooms and 36,000m2 of outdoor space, as well as a reception capacity of10 to 10,000 people, the Pont du Gard site has all you need.  
The Pont du Gard Site is listed as a UNESCO World Heritage Site, it offers an exceptional natural and physical setting for the organisation of unforgettable events. Depending on the atmosphere you wish to create, our different spaces can easily accommodate reception tent structures and even marquees, always with a view of the Pont du Gard.
Our rooms are modular and can offer spaces ranging from 40m² to 480m², depending on the number of participants and your needs. Our spaces are all fitted out with sound, video projection and multimedia equipment, guaranteeing pleasant and functional working conditions.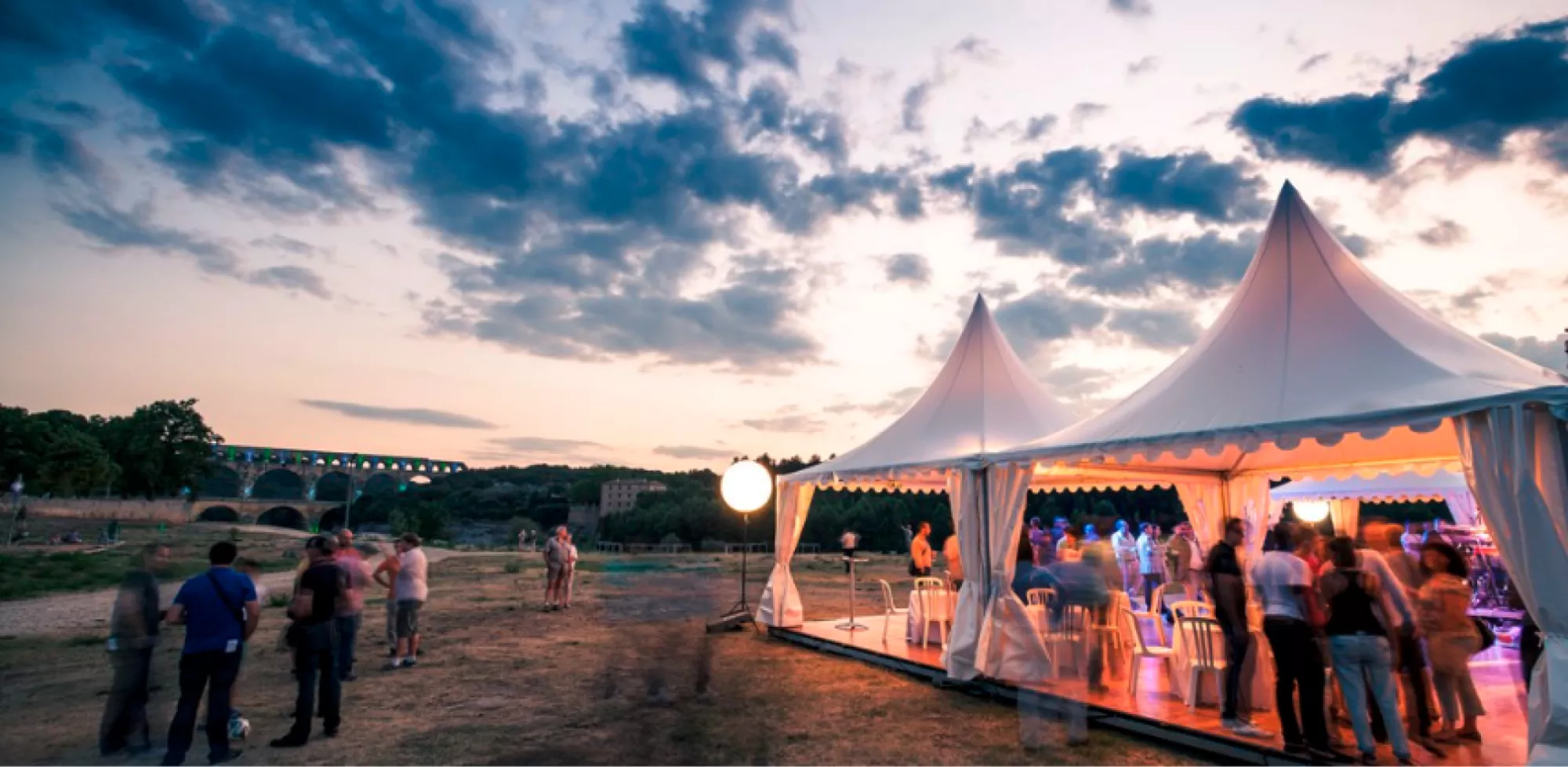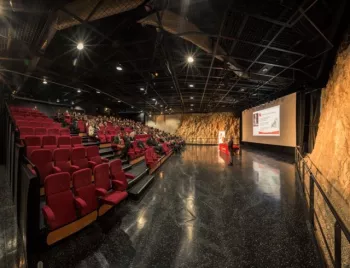 • 480m² surface area; 
• 32m² modular stage; 
• 237 seats, including 6 for disabled; 
• Retractable seating; 
• Giant screen; 
• Fully equipped independent control room; 
• 1 dressing room.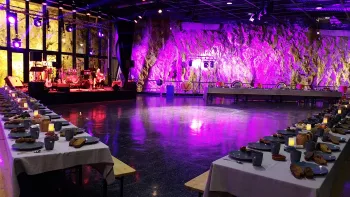 • 480m² surface area; 
• Capacity: 180 to 450 people; 
• 1 dressing room; 
• Former quarry; 
• Can accommodate stands, cocktails and banquets; 
• Calm and original atmosphere set into the natural rock.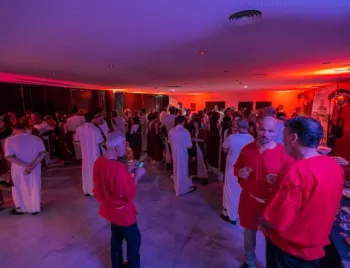 • 220m² hall; 
• overlooks the congress centre's forecourt and its natural surroundings; 
• ideal for a break.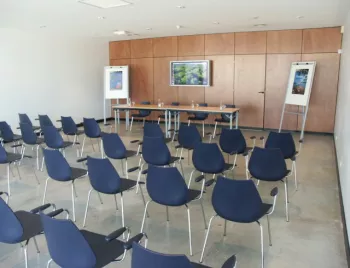 • 40m² hall; 
• Capacity: 30 people; 
• Only possible if the whole building is booked.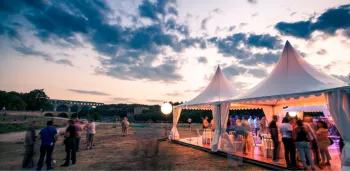 • 300m² space; 
• Can host cocktails and exceptional outdoor events; 
• Intimate atmosphere; 
• Authentic and timeless setting.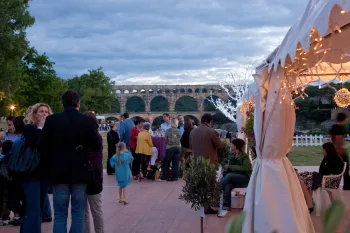 • 5,000m² space; 
• Close to the congress centre; 
• Easy to access; 
• Tents or marquees can be installed; 
• Unobstructed view of the whole site, the river and especially the Pont du Gard.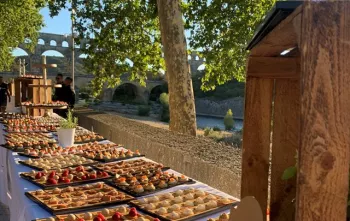 • 5,400m² space; 
• Unobstructed view of the Pont du Gard; 
• Overlooks the beach; 
• In the shade of hundred-year-old plane trees. 

• A reception area for visitors; 
• Near to the museum areas, shop and Bistro.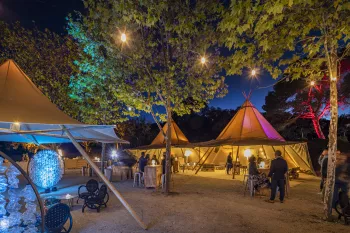 • 1,500m² space; 
• Original view of the Pont du Gard; 
• Natural atmosphere with thousand-year-old olive trees; 
• Between the garrigue and the monument; 
• Can accommodate your cocktail parties or receptions.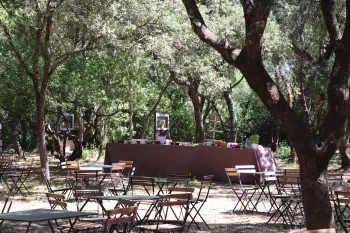 • 15,000m² estate in the middle of the garrigue; 
• Private areas with plots of Mediterranean crops; 
• Ideal place to combine incentive events and country-style receptions.
La salle Aqueduc mesure 140m², et est divisible en 3 salles d'études (cloisons amovibles)
- Valmalle : 50m²
- Roussière : 50m²
- Sartanette : 40m²
For more information
For information or location
Contact our reservation department
Association & CSE (Business & Social Councils)
For groups of at least 20 people and works councils, the Pont du Gard site proposes reduced rates for self-guided or guided tours. With this reduced rate, your group will be able to visit our museum retracing the history of the Pont du Gard, the temporary exhibition and even get a guided tour of the top level of the monument with its breath-taking views.  
CSE or Business and Social Councils can contact our team for a promotional code with which their members can order their discounted admission tickets directly online. Entrance tickets are for guided or self-guided tours, as well as the many shows we offer throughout the year.
If you are a group or an association and would like to organise an outing to the Pont du Gard site, please contact us, we will be happy to help you to prepare your visit. Various packages are available, combining visits, catering and entertainment. 
For more information on our offer
Contact our reservation department